A couple of pots from the Museum's ceramic collection that inspired Jon to make his interactive, water play ceramics for the exhibition MAKING HISTORIES currently on show at Leamington Spa Museum and Art Gallery in Warwickshire.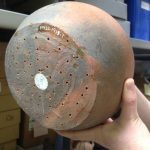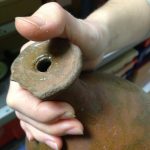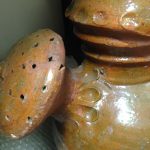 The first two photos are of a large, flat based, stoneware bottle with an arrangement of tiny holes pierced in the base. Submerged and filled with water, the liquid is magically held within the vessel by placing a thumb over the bottle top! When the thumb is released, the vacuum is broken and the water sprays out of the base like a watering can hose. The function of this piece was not horticultural, but to quell atmospheric dust. They were used on busy, dusty high streets before the advent of tarmac. Fastidious shop keepers attempted to limit the amount of dirt settling on their shop windows by watering the pavements outside their premises.
Here are Jon's pieces he developed for the exhibition. Each piece sits in it's own water tank and is 100% designed to be played with by Gallery visitors. Photos by George Nash.